2007/02/15
por John Sullivan
—
Enviado:
15/02/2007 15:58
Última modificación
21/02/2007 16:45 Copyright © 2007 Free Software Foundation, Inc., 51 Franklin Street, Fifth Floor, Boston, MA 02110-1301, USA Verbatim copying and distribution of this entire article are permitted worldwide, without royalty, in any medium, provided this notice is preserved.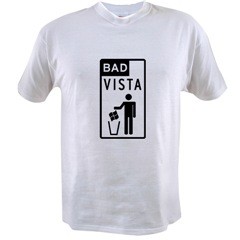 We are working on producing some t-shirts of our own, but in the meantime, an enterprising supporter has independently made a BadVista logo shirt available at cafepress.com.
Note that sales of this shirt do not fund the campaign, but wearing the logo does help.