2007/03/14
by Matt Lee
—
posted at
2007-03-14 17:35
last modified
2007-03-21 10:29 Copyright © 2007 Free Software Foundation, Inc., 51 Franklin Street, Fifth Floor, Boston, MA 02110-1301, USA Verbatim copying and distribution of this entire article are permitted worldwide, without royalty, in any medium, provided this notice is preserved
Hi, I'm Matt Lee, the chief webmaster for the GNU Project. This is my first article for BadVista.
Right now, the computer manufacturer Dell is offering you the chance to speak up and give your views on how they can best support GNU/Linux on Dell computers. Unfortunately, none of the distributions listed on Dell's poll appear on our list of free distributions due to their inclusion of non-free software; this includes binary firmware, binary video drivers and other proprietary software, like Flash.
Dell is in a rather unique position, since as a manufacturer of systems they can choose the hardware devices that go into their machines. If they were to build computers specifically for GNU/Linux, or at least ones that could accommodate GNU/Linux and other operating systems, then there's no reason why those machines couldn't be built to support a totally free distribution like gNewSense. Couple that with a free BIOS, and Dell could be onto something pretty huge.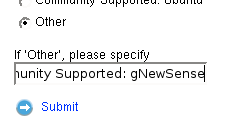 If you're someone who's previously bought a computer from Dell, or would potentially buy a machine from them if they were to make support available to fully-free distributions like gNewSense, then please take a few minutes to complete their survey, and post in the comments below to show your support for this effort.
Size
786
-
File type
text/html
by Matt Lee
—
last modified
2007-03-21 10:29 Copyright © 2007 Free Software Foundation, Inc., 51 Franklin Street, Fifth Floor, Boston, MA 02110-1301, USA Verbatim copying and distribution of this entire article are permitted worldwide, without royalty, in any medium, provided this notice is preserved
Size
1739
-
File type
text/html
by Matt Lee
—
last modified
2007-03-21 10:29 Copyright © 2007 Free Software Foundation, Inc., 51 Franklin Street, Fifth Floor, Boston, MA 02110-1301, USA Verbatim copying and distribution of this entire article are permitted worldwide, without royalty, in any medium, provided this notice is preserved